1. We have now lived here for 4 weeks, and our naughty cat, Lola, still hates my parents and Luke. She is absolutely psychotic. Anytime one of them gets even close to her, she starts hissing and growling and swiping at them. She has all her claws, so she's actually kind of scary. Haha. Stupid cat.
2. Lucy and I took a break from our "Letter a Week" project to focus on Easter this week. I saw a book in the Family Christian ad called "
The Story of Easter
" written by the same author who wrote the Christmas book we have. I decided I would go down to Alpine on Tuesday to buy it. On Monday, I happened to stop at Goodwill to look for Psalty tapes. I didn't find any tapes, but I did find the Easter book - for 80 cents! Woohoo! So we've been reading that, and talking about Jesus's death and resurrection. I really don't think Lucy understands. She just kind of stares at me blankly. Haha. But here are some of the Easter crafts we did this week:
It's surprisingly difficult to find Easter crafts that aren't related to bunnies or eggs. Not that I'm totally against those things - I just wanted to do crafts that reiterated the story I'm trying to teach her. Alas, we ended up doing
this one
because I knew she'd love doing the spray bottle: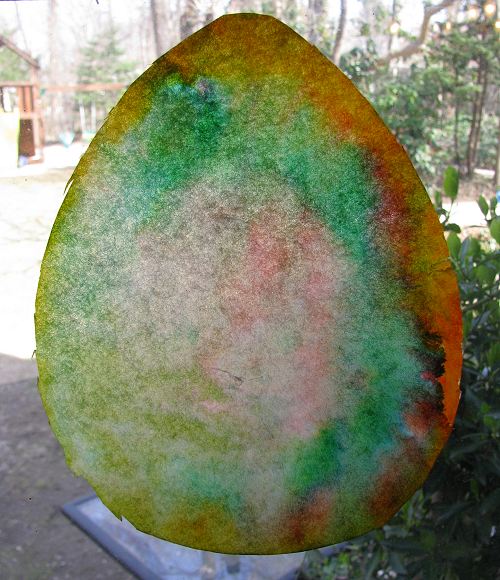 Picture from naturallyeducational.com
I actually saw another site that recommended folding the filter in half a couple times before coloring/spraying it to make designs. We did that and ours looked much cooler than the above picture.
On Thursday, we made
resurrection rolls
. They were supposed to look like this:
Picture from motherhoodonadime.com
Ours looked like this:
I don't know why the pic is crooked, but I can't turn it.
Apparently I didn't seal them well enough because they oozed all over the place, but they tasted delicious! I told Lucy over and over that the marshmallow represented Jesus and he went in the grave, then disappeared! He didn't stay dead - he's alive! She didn't get it. Haha.
After Lucy wakes up from her nap, we're going to do
this craft
:
Picture from catholicicing.com
Ok, sorry. That point was super long.
3. I'm wary of even writing this, but I think Lena's been doing better the past few days. She's getting in a good routine, taking good naps, and screaming a lot less. I'm starting to learn that she gets cranky when she's tired. I know that seems like a no-brainer, but it took me a while to figure out which is the tired cry and which is the "my belly hurts" cry. Anyway, I read recently that most babies have their peak crying time between 4 and 6 weeks. And the major fussiness usually starts to taper off at 12 weeks. Well, Lena's 9 weeks old, so hopefully we're on the upswing!
4. Look what I made today:
The windows upstairs are a strange size, so we couldn't find curtains that fit. I decided to put on my Susie Homemaker hat (apron?) and make some! This one is from a tablecloth I bought at Goodwill years ago. I cut it down to size and used some iron-on tape to make a pocket at the top for the rod. Actually, Luke ironed it for me. I don't know how to iron. Lol. Shameful.
5. I have a new hobby/obsession: sweeping. No, not the floor. Entering sweepstakes. I have a couple friends who do it and have won a lot of stuff. And now that I'm a full time stay at home mom, I need to start pulling my weight around here. If I can't make money, maybe I can at least win us something! Haha. I've been using
this website
. I made a new facebook page and a new email address solely devoted to sweeping. I haven't won anything yet, but it's only been like 3 days. I'll keep you posted. :-)
6. I made
this chicken enchilada recipe
this week. It was delicious. Lucy even ate 2 tiny bites of it because it had sour cream on it. (Her favorite thing - she eats it by the spoonful. *Gag*)
7. We went to Justin's parents' house last night to watch the Michigan game (my parents don't have cable), and I pulled out his baby scrapbook to do some comparing. It's funny how I think Lena looks like me in these pictures:
But looking at Justin's baby pics, she looks like him too! Haha. I guess she's just a good combination of us both. Here are some of Justin's pictures. (His mom scrapbooked them, so I just took pictures of the pictures. Excuse the bad quality.)
Hahaha - poor Lena definitely got Justin's ears!
But look how cute he was as a little boy!
Awesome mullet!
I don't think Lucy looks anything like Justin. We'll see if Lena ends up being the girl version of the above picture. :-)