1. The Potty Training Chronicles: Lucy stayed dry every night for a week, then the past two nights has woken up absolutely drenched again. Frustrating.
2. It's actually been a horrible week of sleep around here. Not only have I been changing bedding and pajamas in the middle of the night, I've been up with Lena multiple times every night. I really think she's getting some teeth. (Finally - she still only has the bottom two.) Her top eye teeth are raised and white but have yet to poke through. Come on, teeth! Just pop out and get it over with!!
3. We heat our house with an outdoor wood burner. All spring, summer, and fall my dad gathers, cuts, and stacks wood like the hardworking ant. But this year, thanks to our especially long, cold, brutal winter we're out of wood! We're gonna have to start burning our furniture if we want to stay warm! Fortunately, we have an indoor fireplace, but the heat doesn't reach upstairs in our bedrooms. Also fortunately, our barn fell down in a windstorm a few years ago, so Dad spent today chopping up some of that wood to get us by. Moral of the story: hurry up, spring!!!!! (And thanks, Dad, for working hard to keep us warm!)
4. I tried to make this breakfast pizza this week.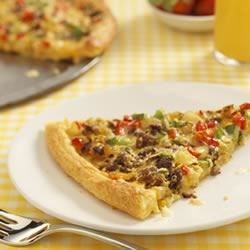 Apparently crescent rolls go bad, though. I popped open a really old can and they all crumbled in a heap and smelled atrocious. So I threw the eggs, sausage, cheese, and hashbrowns in a pan, scrambled the eggs, then let them cook on the stove for 10 minutes. Accidental quiche! I was so proud of myself for improvising. I don't usually deviate from recipes. Haha.
5. After reading that book last week I decided I want to be more intentional about placing scripture around the house - both to encourage me and to be something my girls grow up seeing and reading. It seems weird because it's not really my house to decorate, but I seriously doubt my parents will mind if I put a few Bible verses on the walls. I've been scouring Pinterest and found some awesome inspiration. Plus I actually made a couple myself in picmonkey. Not nearly as creative as the ones on Pinterest, but not bad for a novice. Now I just have to wait for some good shutterfly deals or something so I can get them printed!
This one isn't a Bible verse, but is still encouraging . . .
This is actually one of Lucy's drawings that I scanned onto the computer.
6. I decided to get back on the weight loss bandwagon. Ugh. I really don't want to, but I really need to. I've been having tummy troubles for two weeks and I've finally decided it's because my diet consists of purely sugar, carbs, and cheese. I realized this week that I only have one pair of jeans that fit. And, the piece de resistance: my mom is on a diet and weighs less than me for the first time in my life. Not okay. Haha. Anyway, I've never exercised a day in my life (other than the failed Couch to 5K venture of 2013), so I need to start slow. I found this on Pinterest and thought it looked doable.
I did it yesterday and my stomach did not look like that afterward. Did I do it wrong? ;-) Seriously, though, I physically could not do a push up or sit up. I have no arm muscles and my core is completely destroyed after two pregnancies. So I did girl push ups and 20 crunches instead. And don't even get me started on the jumping jacks. Not the same since giving birth. :-/ Ugh. I'm not cut out for this exercise thing.
7. It's almost the end of March, and our budget is pretty abysmal. I kept track of every cent we spent this month. It's very depressing. So far we've spent $131 more than what we made this month. Blurg. Gonna have to make sure not to spend any money between now and Monday (the 31st). It was good to see where all the money goes, though. I only went $3.27 over my grocery budget. That surprised me. I was also surprised to have over $80 left in the gas budget. Justin's new car takes seriously less gas than his old one did. But then there's the unbudgeted stuff: $77 in fast food and gas station snacks! $50 in gifts (pre-buying for Easter and Lucy's birthday, plus one small birthday gift for a friend). Stupid stuff like haircuts and prescriptions and a new bathroom scale. Maybe ne
xt month will be better . . .