It is Saturday, right? This week has me so confused . . .
1. Lucy had her first class party at school on Monday. They had Thanksgiving dinner before the party and Lucy informed me that she only ate Jell-o and a roll. Typical. Lena and I arrived after lunch for the party. They had 5 tables set up with different crafts/activities for the kids to do. Lena loved it as much as - or more than - Lucy.
Gobble gobble!
This was Lena's favorite station. She refused to move. I definitely bought her some of those foam stickers for Christmas when we were out shopping yesterday.

2. We did Thanksgiving with the VanderKoddes this year. I was assigned a vegetable dish of my choosing. At first, I was going to make this:
It's nothing I would ever eat, but I figured the health nut VanderKoddes would appreciate it. So I went off to Meijer to buy tomatoes and zucchini. Did you know that zucchini is $1.99 a piece during the off season? I couldn't bring myself to pay that much when we grow them in our backyard for free all summer. So then I decided to make sweet potato casserole. Apparently I procrastinated a little bit too long, though, because Meijer was out of sweet potatoes! Finally, I was annoyed and decided just to make
corn casserole
. That's still a vegetable, right? Ha.
3. Because I'm as bad as my girls, all I ate for Thanksgiving dinner was ham, mashed potatoes and gravy, cheesy au gratin potatoes, and sweet potato casserole (someone else made it). Plus a lot of dessert. Mmmmm. Carbs and sugar. My main food groups. And this is what I looked like afterward:
Justin has a cousin who is due 8 weeks before me (which makes her like 8 months pregnant) and I definitely rivaled her for size. It doesn't bother me. I'm a whale when pregnant. It's worth it for all the good food I get to eat. Well, and for the baby at the end obviously. ;-)
4. We had dinner at 1:30 and everyone was packing up to leave by 4, which was perfect timing for the annual Black "Friday" shopping extravaganza! And now I'm going to rant. I am so sick of these holier-than-thou memes on facebook:
I don't go out shopping to buy myself a bunch of fun things. I'm not greedily adding to the possessions I'm already thankful for. I am a stay-at-home-mom. We choose to send Lucy to a Christian school. We live on one income and don't have tons of money to spend on Christmas. I brave the crowds and fuel the "corporate America conglomerate" because I'm trying to be frugal. You can't beat Black Friday prices. I buy Christmas presents and stock up on things we need throughout the year while they're on sale. So y'all need to get down off your high-horses and take a chill pill. (Defensive, much? ;-) I told you pregnancy makes me angry. )
5. I also did a lot of online shopping during the week as most stores had early access to their Black Friday deals online. Between the online shopping and the madness on Thursday, I am now 95% done with my Christmas shopping. I have 2 people left on my list who will probably just get gift cards because they're too hard to shop for. Haha. Time to get wrapping!!
6. Today was the one day a year I work outside of the home. Niki and I did a 6 hour shift at our cousin's store. I wore my maternity belt and brought a stool to sit on, so I wasn't in unbearable pain. The maternity belt looks ridiculous and doesn't seem like it is doing much while I'm wearing it, but I can't deny the difference. When Justin and I shopped for an hour last weekend, I was in agony without the belt. When I wore it Thursday night and today, I was definitely uncomfortable, but not in nearly as much pain. Hopefully it will continue to help as I continue to grow. It looks like this: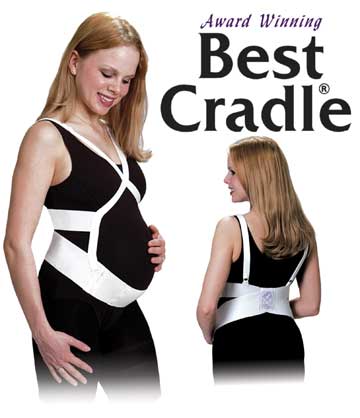 Pretty awesome, eh? Haha. Don't worry. I wear a shirt over it.
7. My brother and his wife moved to Florida today. We hate to see them go. My girls adore them and I'm so sad that they won't be such a big part of their life anymore. Luke and Esther stopped over to say good-bye last night and Lucy refused to let go of Esther. Then Esther gave her a random key she had in her pocket and Lucy made me tie it on a string so she can wear it around her neck to remember them by. Lol. The good news is that they're moving to Orlando and renting a 3 bedroom house. Disney World, here we come!!! (You know, in like 3 years, after we've saved enough money for gas and Disney tickets. Ha.)